Tips for Free People Search in Canada
There are several absolutely free online resources for finding people in Canada without having to purchase services or pay for information, keeping in mind that more sophisticated or in-depth information about people (like background checks, criminal histories, marital status and employment records) is not included in people-search services at no charge.
---
Fake People on Canada Social Sites
'Catfishing' is using fake online personas, people profiles or accounts in Canada to lure ppl into false if not harmful and dangerous relationships. Use this service to conduct a totally free people search by name, email and home address and phone number to see if people are who they say they are - online.
---
Reverse Phone Search for People in Canada
Got a phone number, landline or cellular in CA? Personal, business or unlisted number? Find someone in canada for free. Click on '100% Free People Search Canada' above to perform a name search or 'reverse phone number lookup'.
Entering a Canadian phone number or a name may return several different results. No credit card required.
The same phone number can be reassigned to different people in Canada as they are discontinued by previous users. Even though the current (alleged) owners of the numbers may not be the people in question, other listings may include information about targets in Canada, like a relative or a key previous address.
Free People Search Sites
World people search sites often use 'free' as click bait for paid services in Canada. Case in point: Searching a common name on a website (claiming to have 'billions of records on people') returns just 4 matches of people with an address, the last 4 digits of the phone number x'd out, no age - very limited search results and very limited information surrounded by more buttons, links and banners leading to a paid people-search service which for 95c* promises to deliver ("if available") full name, age, addresses, date of birth, phone numbers and relatives. The asterisk leads to a disclosure 'Special price with the Intelius People Plus offer' which in turn discloses that the 95c really doesn't exist because it requires signing up for the plus plan which would be $7.95 IF the plan is canceled within 7 days, accented by "You saved $3.00 on this report!", exclamation point. If not, the charge is $29.95 PER MONTH. Now if recollection serves, buried in the finer printer, canceling within 7 days imposes a charge of $7.95 so "Where's the 95c again?". As part of the chicanery the site touts the BBB (Better Business Bureau) 'Accredited Business' seal plus the assurance that the people targeted in the search will not be notified of the search - a hollow token. Why would people be notified anyway? When there are multiple matches for the search, how would people know which person to warn?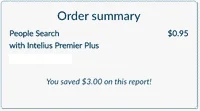 If you know how to do an online people search, the completely freesearch engines and social media platforms will provide detailed profiles. Though some phone numbers or email addresses can throw you off the track during an online people search, finding the right peoples' names, pictures, or locations starts here. Search engines like Google, Yahoo Search, or Microsoft's Bing complement what you won't find on Facebook, Twitter, Instagram or LinkedIn.
Offline People Search
Just the same way that direct marketers are able to obtain your contacts and even address, you can find public information on people with little restriction. Other government agencies, attorneys, private investigators, and law enforcement also have the same access to online people search for information.
Genealogy
Genealogy records are of high interest when performing an offline people search, and this can be accessed from churches, courthouses, historical archives, libraries, hospitals and schools. Local clubs and organizations will also tell whether a member of a certain family has ever been enrolled, while other genealogical archives can divulge physical evidence on people of interest.
Organizations Holding People Records
Since government records are free for public access. Documents are produced when people are born, acquire a driver's license, marry, buy a house, or file a lawsuit. These and more are either certified or recorded somewhere, making access to the organization holding records, equal to finding information about people of interest.
Incidentally, how does a Canadian business achieve the status of 'accredited business' with the BBB? Intense scrutiny of company principals and business practices? Background investigation? Customer satisfaction and history? An evaluation of this marketing ploy? None of the above. Any business can become 'accredited' by paying $600 (or more) every year with no relevant or significant questions asked, just token efforts to give the (false) impression that the business had been scrutinized and passed arbitrary subjective muster.
People search services generally take the forms of search 'tools', website directories and searchable databases.
Canadian People Search Tools
A 'tool' is usually a software app that someone created and put forward for some kind of gain whether it be dollars, website traffic, popularity, links or just a warm and fuzzy feeling of bucking capitalism.
'Tools' customarily don't have their own sources of data but merely tap into existing (large) people databases, thereby in their very nature making them mostly unnecessary as those seeking people could simply go to the database directly without the aid of the 'tool'. Some of the better utilities might attempt to search multiple repositories but as people databases continually change parameters, tools can become outdated. Moreover, people search tends to be a sporadic event that doesn't warrant purchasing one software program (the tool) to search another software program (a database).
Canada Background Searches
Looking to look into peoples' past and present character, reputation, marital status or history, financial track record, judgments, arrest record, criminal history and/or online presence? Such are the efforts of background-check services.
By law most if not all information about people is a matter of public record available to anyone. The enormous challenge is the time required to learn about and use a scattered number of sources.
Website Directories in Canada
From the beginning the phrase 'people search Canada' has been one of the most popular search phrases online. Using that phrase in Google returns 3,150,000,000 (three billion one hundred fifty million) website listings in SERPs (Search Engine Results Pages). Consequently the number of websites targeting that phrase for 'traffic' is proportionate. There are literally way too many people-search sites to mention here so let's focus on the larger ones for Canada:
One such website is "People Canada" - a popular Canadian search site with an expanded motto of "This is a good place to find!". Available to visitors in both English and French, it is a wide variety of features to search over 19 million listings. The site has tools to perform people search by name (with or without location - city entries are optional and the tool has a drop down list of provinces), zip code lookup, look up also by town (including U.S. businesses), toll free number lookup, city guides, yellow pages, Internet web search (by keyword), and links to International Directories on six continents.
Another provides media monitoring, research and reporting solutions through websites and English newspapers including The Vancouver Sun, The Province, The Calgary Herald, The Edmonton Journal, The Ottawa Citizen and The National Post. While not a people-search service per se, a site search service is provided although accessing it may not be readily obvious. It's necessary to click on the spy-glass icon at the upper right on the new/who-we-are page (for one).
In search tests, looking for the last name Miller produces a variety of news articles containing that name. Searching 'Jason Miller' brings reports to the top of listings for that person. Placing the name is double quotes seems to return the same results, unlike most search engines which would only return websites, videos, images and so on for locations containing that exact name.
Another way to refine search results is to switch to one of the sub categories (News, Arts & Life, Business, Sports, Driving, Jobs, Classifieds, Obits or Health) then conducting the search, again using the spy-glass icon. Each sub category is further divided into sub-categories. Sports for example has hockey, basketball, baseball, football, soccer, golf and tennis.
Lastly any word or phrase can be searched on any website by using the format (site:websitename.com). For example, to find pages on a website that contain the word 'lookup', in the address bar type (site: websitename.com lookup) without parentheses. Adding more words will return more page results. Including a phrase is double quotes will only return pages that contain the exact phrase within the quotes.
How Can I Find a Dead Person?
Of course the person you seek may not be alive, so how can you search for someone who is deceased?
Legacy is a popular website for all things related to those who have passed on and it does provide a search function which allows for detailing information about the person being sought, narrowing by name, geographic location and time range.
For a broad search with several possible matches, enter only a last name, country and 'All' for the date range. Refine search results by adding more specific information like adding a first name or trying variations of spelling of first and/or last name. Select a state or if time of death can be narrowed down, designate an approximate possible time of death like 'Past Year' or a range like '2010-2017'. Hint: If several possible 'near matches' are returned, on the results page, hold the control key down and press F to open a search function for the page and type in more detailed identifying information. In Chrome use the up and down arrows to skip to listings matching the search criteria.
Frankly the search returns on this site were disappointing in test searches, returning very few possible matches, aggravatingly followed immediately by reference to the paid site, ancestry.com, leading one to suspect that legacy.com is someone's invention of a way to gain website traffic to be herded to a PPSS anything site.
Sure enough, following the bait leads to a 'free trial' on ancestry accompanied by a page filled with claims of information available with clickthroughs to alleged birth, marriage, divorce and death records:
Explore millions of U.S. records
Make quick family history discoveries
Collaborate with other members to grow your family tree
Preserve and share your family history
How Can I Find Someone in Canada?
As Facebook grew to a large number of subscribers, it became a large repository of data re people going well beyond 'name, address and phone number'. In its early years the website may not have been thought of as a means for locating people but as popularity grew so did its search function.
You must be logged into Facebook to conduct a search and once there, click where 'Search' appears in the search box and type the person's name.

As letters are entered Facebook will present a list of name suggestions, any one of which could be selected as the search name. After entering a first name, enter the first letter of the next name (middle or last) to see matching suggestions. Otherwise enter as much of a name as desired and either press Enter or click on the 'spy-glass' icon on the right of the search box to conduct the search.
With Chrome 5+, Internet Explorer 9+, Safari 5+ or Firefox 4+ Google (and other services) make it possible now to search for someone (or something) using a picture of the person or thing. Google says, "When you search using an image, your search results may include: Similar images; Sites that include the image; Other sizes of the image you searched for. Search using an image works best when the image is likely to show up in other places on the web. So you'll get more results for famous landmarks than you will for personal images like your latest family photo."
To use image search, go to images.google.com or any images-results page. Click on 'Search by image' then select 'upload an image' then 'choose file' and select the image from your computer. Search results will display where the picture appears on the web and list several images that look similar.
Alternatively, on any website, right click on an image and choose 'copy image address' or 'copy image location' then at images.google.com click in the search box and choose 'Paste and Go'.
In Chrome it's possible to right click on a picture and use 'Search Google for image'.
Using a cell phone? Install the Chrome app (Android and iPhone or iPad) then tap the image to view a larger size. Touch and hold the image in the box that appears and select 'Search Google for this image'.
Is There A Free Way To Lookup A Phone Number?
A very long time ago owners of websites (like Yahoo, MSN and AOL) figured out that they didn't need to sell a product on a website to make money. Instead they could display banner ads linking to websites that did have something to sell (like dating sites, software vendors, stores, etc) and would pay for ad placement.
Google came along with 'paid ads' making it possible for website owners (like search sites) to earn money by displaying Google Ads who in turn was paid by vendors purchasing the ad space.
As a user of websites we are painfully aware of the videos, the popups, the banner ads and every other effort to catch our attention. 'Traffic' refers to people visiting websites so search sites offering free searches do so to attract visitors who are offered a variety of opportunities to buy something or go to another site that has something to sell. By using free search sites we become 'traffic' that can be sold to another website owner or solicited in a number of ways that produces income from our actions.
There's plenty of chatter in search results about finding a phone number but there are very few (if any) free searches. The exceptions are Facebook and Google (and other search engines that may not return as many accurate or useful results). Keep in mind that databases are proprietary so if the target person isn't located in one source, his or her information may be in another.
How Do I Find Someone's Phone Number?
There are several websites focused on finding phone numbers but many of them are paid sites or 'fronts' for paid sites which bait with offers of free services which only return scanty results with links to upgrade to really find phone numbers.
There are several places to look for phone numbers that aren't so obvious and not readily prominent when using search engines and keywords related to finding phone numbers:
Place of Employment
If you know of places where the target person had worked, you're not limited to a computer and keyboard to search. Pick up the phone or send an email simply asking to contact the person. The responses might be that 'She no longer works here' or 'May I ask who's calling?' or your email might get forwarded to him/her. The purpose in reaching out is to start a dialogue that may lead to tracking the person down.
Google Search
The search engine Google is probably the most proficient at finding a person and his/her phone number because Google indexes the largest number of websites and does the best job of returning relevant results. When searching for a person's name, the broadest list of matches will be returned when just using a last name - so you can peruse a list and perhaps find the person using a variety of first names. That strategy of course is more effective for uncommon last names and not common names.
For more common names, add a first name, then added a middle initial, or try a middle name. Include suffixes like II, Jr. or esq. To get a list of names for a specific name like "Mary Ellen Smith" include the name in double quotes as shown. Only websites containing that exact name will be returned and a message will appear if no matches were located.
Province Tax Records
Property records seldom come to mind when looking for a phone number but in those provinces where phone numbers are included in property records (or not), using the address as a search parameter might at least find the person to open up a conversation, if only by snail mail.
Military
Did the person serve in the military? Whether that is known or not, it may be worthwhile using search services on sites like Veterans Affairs Canada, Canadian Armed Forces members and Veterans, and Canada Military Records Genealogy to investigate. It's possible that a relative of the same last name might be found which could lead to finding the person sought.
Lost-Missing Persons
The local police are responsible for missing persons - either city or RCMP or OPP in Ontario. Finding local contact information is very simple and sending a message or filing a missing-person report while start the investigation. It's also possible for local police to maintain Twitter accounts where they ask for public assistance in locating lost persons. Those accounts can be followed as they have access to private data not accessible by citizenry.
Post In A Forum
There are many websites where information resides and people converse about there whereabouts of other people. Googling 'missing persons Canada forum' returns 15 millions matches with these at the top of search results: unsolved murders & missing people, cold cases, missing, murdered and wanted, missing people in Canada forum.
Social Websites
Because so many people opened accounts at Facebook, that service has become a large repository of peoples' contact information. While Facebook may not publish a phone number, at least finding the person might open a line of communication either by posting on the person's page or opening a message session.
Search for People in Canada
Find People Canada is 'The Phone Repository for Every Canadian'. This very popular Canadian search site's expanded slogan is "This is a good place to search!". Available visitors speak both English and French. It offers variety of characteristics whereby search of 12 million listings is made possible. Directories of residential listings are available for Montreal, Toronto, Calgary, Ottawa-Gatineau, Vancouver, Edmonton and Quebec City.
Find People in Canada
What are White Pages? They are alphabetical listings of names, addresses and telephone numbers of people with telephone service (or subscriptions to services related to publishers of such information). Any person with a telephone number that is not 'unlisted' and who otherwise has not requested exclusion from the publication will appear in the directory.
The monikers 'white' and 'yellow' originated with printed telephone books which had information about people on white pages and business advertisements on yellow pages. Of course all white pages were grouped together and all yellow pages were grouped together in the same 'phone book' so in looking at the edge of the book, each section was clearly distinguishable. If you picked up the phone book to search for a person, you knew to go to the white section.
In geographical areas where combining personal and business information was too much for one volume, listings for individuals and businesses were published in separate books. In heavily-populated areas both white and yellow pages were divided into separate books with alphabetical groups like A-F, G-M, etc.
Paid People Search Sites
Scrolling down to the bottom of one home page and drilling down to Terms of Use (the fine print) reveals some interesting disclaimers and agreements that hint of dissatisfaction that may occur in using this search service and the red tape that users may get wrapped up in:
"The information available on our website may not be 100% accurate, complete, or up to date, so do not use it as a substitute for your own due diligence..."
"...does not make any representation or warranty about the accuracy of the information available through our website..."
There's just short of 11,000 words of 'lawyer speak' in the Terms of Use, begging the question, "Why go to such great lengths and expense to protect against legal action?".
It is possible to make it more clear that signing up means the card used for enrollment will be used to set up automatic monthly payments and if you don't catch it, you'll be responsible for payment for all months that were billed beyond the initial payment:
" Any cancellation request will result in the cancellation of any upcoming invoices and/or bills associated with your Membership Plan. However, upon cancellation of your Membership Plan, you will still be responsible for paying the costs associated with any invoices or bills already issued to you and/or received by you."
It also appears that cancelation requests can only be made by phone. There doesn't appear to be communications about cancelling via email, snail mail or other means.
Dare say that if a search service started the home page heralding these caveats instead of 'The Results May Shock You!" sales revenue would suffer drastically.
Imagine if this claim -
"This site contains REAL police records (court records of driving citations, speeding tickets, felonies, misdemeanors, sexual offenses, mug shots, etc.)..."
actually read something like-
'This site contains records that may be outdated, incomplete and inaccurate.'
So it appears that if you sign up, your money is gone and you're not getting it back, no matter how unhappy you might be with the search results, and if you don't know to cancel, you'll continue to pay until you discover that your 'subscription' was automatically renewed and you won't get that money back either.
It's not within the purview of this article to spend hundreds of hours evaluating any site's search accuracy or worth. It's sufficient to note that providers of such services are themselves aware that their usefulness may be called into question, hence the barrage of legalese and disclaimers as well as making it difficult to impossible to get a refund if results are unsatisfactory, or worse.
National Archives: You can reach MPRC or National Archives Military Personnel Record Center and search for military personnel records for contact information. You only need to write a letter along with a stamped envelope with all the information you have gathered. You don't need to be related to the person or have some confidential information about them to request their current or last known location or any other available information.
GI Search: This is an independent website that is specifically intended for people who want to find other people who are or were in the military. It is a free search engine with the military social network to find military friends and missing ones. Go to the site and use the search option where you can find anyone with a military history. It includes the Army, Navy, Air Force, Marine Corps, and Coast Guards. You can search for anyone with information, or you can browse through the photo archive of aircraft, military boats, and duty stations. (There can be some exceptions since sometimes the government keeps records of some important personnel from the public.)
Military Buddy Finder: Another independent website developed in 1999 is military.com - a platform that provides information about the veterans and military members regarding their benefits. This website has a feature called military buddy finder. It contains over 20 million records with the free locator facility. You need to enter first name, last name, service branch, email address, and pay grade.
Military Spot - Military Locator: This platform offers news, information, and resources about soldiers in the Army, Air Force, Navy, Marines, Coast Guards, and National Guards. It is another private company's website, which is run by Sun Key Publishing. Though this is not affiliated with the US military here, you can find veterans and active-duty personnel. Click here to open the website, and there you can find several links with the classification of military branches. Here you can find the link which says: Reunite with Old Military Buddies, Army Buddy Tracker, Air Force Email Locator, etc.

Reverse Address Lookup Canada

A reverse-address lookup allows an address to be entered as a search parameter for the purpose of determining the person or business at the address.

Whitepages provides a free reverse search for persons and for businesses. Most free offerings are limited in some way and only act as teasers to entice users into 'upgrading' to a paid version. This service is no exception. After only 2 clicks a warning pops up stating that searches are being performed 'too fast' and an upgrade to the pro version is recommended. Clicking elsewhere leads to the typical 'unlock full report' button which in turn presents 'search plans' with various features and prices (contact info plan, all-access plan and background report).

Reverse Phone Number Search

Entering a phone number into the search box of a 'reverse-phone-number' search service might return a useful result. Success is 'iffy' partly because of the frequency with which people change their phone numbers. A new complication adding to unlikely success is the addition of cell-phone numbers added to the mix. A large number of phone numbers are also 'unlisted' (not in public record) making them irretrievable.

When searching for anything and everything on the Internet, almost always paid ads appear at the top of search results. More often than not those listings lead to services which are not free.

How Do I Find A Phone Number For Someone?

Begin finding someone's phone number by simply searching Google for the person's name.

For a broad return of many records, use only the last name, especially if the name is uncommon. To narrow the search results, add a first name and search again. Still no luck? Add a middle initial or middle name. Keep adding as much information is available like an address, a partial address, a previous address or phone number, place of employment or birth, names of relatives, schools attended, a suspected area code, date of birth, professional designation (Dr., PhD, CPA, etc)...

Narrow search returns by placing search words in double parenthesis, like "John Q. Smith" will only return exact matches for that string of characters. Tandem search phrases can be used, like "John Q. Smith" "Canada". ('And' between phrases is not necessary. Omitting 'and' won't change the listings significantly.)

Why Google People Finder Canada? It's...

Easy. Google is quickly available and browsers can be set to open to the Google search page when they are called. In Chrome, for example, look for Settings in 'Customize and control Google Chrome) and in the 'start up' section remove all entries and enter https://www.google.com.
Free!
Global. The person you seek may not be in the country expected.
Broad with 30 trillion unique webpages indexed (2019).
Fast! Amazingly searching for the most arcane string of characters (like a name) produces (accurate and plentiful) SERPs (search engine results pages).
relevant, returning web results that pertain to the search words used.

This is not to say that because Google doesn't know about the person or failed to deliver information sought that some other website providing search services won't have the target information. Google is just the first place and the best place to start.

True People Search Canada

Canada is a web database (in English and French) populated with information about Canadian individuals and businesses, searchable by name, location and/or phone number (reverse lookup). Advanced-search options include advanced search, reverse address, reverse postal code, proximity, area code, popular name directory, social search and direction search. Business search parameters include multiple locations and products/services.

Residential listings originate from public local telephone records for published numbers but some information in independent telephone companies' databases may not appear.

To add your personal information to the database, go to the home page () and scroll down to (or search for) 'Request a Residential Directory'. It looks like adding a business is not free: "Want to have your business listed on Canada? Advertise with us."

Popular search categories include Florist (Calgary), Painters (Calgary), Home Improvements (Montreal), Lawyers (Montreal) and Restaurants (Calgary).

Fast People-Search-Canada Tools

The computer desktop is a good place to create folders where common files can be stored (as opposed to cluttering the desktop with a bunch of similar links - like shortcuts to frequently-searched words, phrases or names. In free space on the desktop create a new folder with right click > new > folder then give the folder a name like 'Favorite Searches'. Click on the folder to open it. Right click again then New > Shortcut and type or copy/paste the URL that produces the search. Hint: Conduct the search first then copy the URL to the clipboard, then follow this procedure and paste the URL in the Location Box. Click Next and give the shortcut a meaningful name that distinguishes it from other shortcut names. Here's a simple way of creating a URL for a Google search: https://www.google.com/search?q=people+search and replace people+search with the person's name like firstname+lastname.

For added convenience, right click on the shortcut and choose 'Pin to Taskbar' to create an icon at the bottom of the screen for future quick reference.

Another handy set of icons at the bottom of the computer screen can be created using Quick Launch. Right click on the taskbar (black bar across the bottom of the screen) then Toolbars and check Quick Launch. The QL folder will be located at C:\Users\username\Quick Launch. Go there, right click > New > Shortcut and repeat the procedure for creating a new link. This method arranges several icons at the bottom of the screen for organization and quick access. Folders can be created in the QL folder to segregate and group types of links like various search engines, universities, municipalities and so on.

An issue is using a Windows computer for search functions is incorrect windows stacking - placing a window under other windows where it cannot be seen or accessed. One method for viewing all windows is pressing the Task View button (which looks like a film strip located just to the right of the Windows search button). From that view it's at least possible to close other windows and click directly to the intended screen. Another way to close windows on top is to hold the Alt Key and press the Space Bar to present a menu of options for controlling the screen on top.

Bookmarks in browsers are another way of organizing and separating links to WWW destinations. When viewing any webpage, press CTL + D, enter a name for the bookmark and choose a folder in which to place it. There's an option to create a folder if none exists. In Chrome Shift+Control+O opens the Bookmarks Manager page where bookmarks and folders can be created, edited, moved, sorted and deleted.

An Excel spreadsheet is another way to group, organize and activate links to destinations both on the Internet and on a computer. A suggested format would be to place a name for a destination in column A and enter the URL of the destination in column B. In Excel it's necessary to click on the entry in B to activate the link. Other spreadsheets should have functions that do the same.

Retain the Services of a Private Eye

If other avenues of search have not found the person sought, look into hiring a private investigator. Cost will certainly be a consideration, weighed against the importance of finding the person and the risk of him or her not being found.

Potential Upside

Most governments foreign and domestic, national, state and local may be required to cooperate with licensed sleuths.
Time will be saved in that someone else will be investing his or her time in the search endeavor.
Investigators have access to tools which are not available to the public.
Most snoop agents have experience which should in turn maximize results for money paid.

Dick Down Sides

Except for the most incompetent, illegal or ineffective P.I.s the services will not be cheap.
There is no guarantee that results will be delivered and there may be no refund of payment.

Search For People For Free

It may not come to mind but private sleuthing is another way to find lost or missing people from the past. Think of unusual resources that are available that might contain current information about the person sought. A high school year book is loaded with names of prior acquaintances that can be searched online. Of course other such records like college manuscripts, congregational publications and membership rosters in organizations ranging from The Boy Scouts to Lions Club. Military annals and government archives contain a plethora of data about past and current members. Often overlooked are prison records of inmates and ex cons as well as employees of penitentiaries and the judicial system which incarcerated criminals. Another arcane sources of recorded information is property records which are maintained by counties in the United States or by provinces or territories in Canada. Information on individuals are maintained by states which have issued drivers licenses as well as arrest records for vehicular offenses. Voter registration scrolls also record data related to that group of people. Quote often a website owned by somebody can reveal contact information about the web-site owner by searching whois services. There may be information about the being on a web space maintained by his or her employer. Of course social people websites may have representation of the entity. Lastly, we all end up planted somewhere so don't overlook the scrolls of obituaries, cemetery plots and medical establishments that may have been involved in the final days.

Info 412

Canada's Info 412 IT is 'The Answer To Everything'. Its expanded motto is 'Not your newspaper, not your TV, not your CD-ROM the companion of your daily life is Info 412 Canada!' Indeed, this website, provided by Canada and published in Italian only, offers a variety of methods by which to peoplesearch in Canada: search by name to find a phone number and address; search for a number from an address; search for a name from a number; search for an organization by an 800 number; search for a list of businesses; search by area code.

© 2003-2020 | International Directory Information