Find 100% True Free People Search
The extent of the effort made by scammers using the word 'free' as click bait (leading to paid search services) is as annoying to people seekers as mosquitos are to caribou. One way to avoid chasing down allies that lead to paid search services in the USA and internationally is to spot sites claiming 'free people search no credit card required' or 'no charge'.
The Best Free People Finders
Under our noses are two of the largest international search repositories of people data that are completely free to search: Google and Facebook, both of which provide advanced search way beyond peoples' names, addresses, ages and phone numbers in the United States and beyond.
Google peoplesearch results are fast 'near matches' returning (for example) one billion five hundred sixty million webpages for John Smith meaning that many websites have both of those names on at least one page. Searching with "John Smith" in quotes will return only sites with that exact name, acting as a 'filter' eliminating all sites that don't have that, reducing the number of sites to twenty-eight million five hundred thousand. "Captain John Smith' narrows the number of sites further to eighty hundred fifty-four thousand. Adding a middle initial returns only 26 results.
Literally anything and everything that has been made available about people online could be pursued in Google freepeoplesearch results: images, videos, news, shopping.
Facebook's free people finder is a similar totally-free site. It doesn't show the number of matches but shows pictures when available. Search returns can be advanced by including known data about the target like schools attended, location, vocation, events...
It's rumored that Facebook was actually created by the U.S. CIA (wink wink) as a way of conning people into entering personal facts in one huge searchable database. If so, clever data mining for chasing down personal information. Otherwise how long would it take, and at what expense, to contact 2.7 billion people, ask and record data that people would volunteer (names, nicknames, pictures, videos, addresses, business and international affiliations, 'friends', personal preferences, political agendas, terrorist connections, places visited) and how less accurate would it be?
Another way to search any website for people is to use this in the browser's address bar: site:google.com "True Free People Search" using quotes or not, replacing 'google.com' with the domain name of the site in question.
Search tip: When seeking advanced free search services and tools, know that the first listings at the top of most search results are placed their by the search engine for businesses requiring payment for their products and services. Look for alerts to paid ads. In Google ads are flagged by 'Ad' surrounded by a green rectangle with rounded corners, or more recently just 'Ad' in bold black letters on a white background. Even if the listing suggests free results, it's safe to assume that free lowdown on people will be very limited and leading to a request for payment for one thing or another.
Fast people search is the activity of using online and offline resources for locating scoop about people. There are various means you can use to conduct a people search:
Online True People Search
There's a trail that everyone leaves in this digital age, and you can comb through it if you have knowledge of performing an online people search. Instances can arise where you are looking for a contact, or you want to know more about a prospective employee, plus it's always useful to get a clearer picture of who you are dealing with online. Real-life situations or business decisions will require that you uncover details, or you could be just looking for a long lost friend.
The individual you are looking for may have a social media account, might have applied for attachments using employment agency sites, or has their number listed on directory webpages. Competent online people search combs through multiple databases that include new articles, court records, and social networking sites. Using data points like the person's name, an online people search will prepare a detailed report that provides you with their current or past address, and contacts.
Totally Free Sources of Online People Search
When you're after solid and reliable reports about people, there's a lot of publicly available from which totally free sources of online people search are available. A collective of resources that won't cost a dime use web techniques to locate your target person, or to dig up some dirt on people.
Free People Search No Credit Card Required
It's vital to note that some of these resources will be free for the initial search, but when it comes to divulging sensitive secrets, you shall have to part with some cash. The completely free online people search finder tools won't ask for your credit card, but that provided might not be as thorough. Persons who are deceased can also prove tricky to find using the free online people search sources since they are more likely to be listed in an obituary finder.
Some of the well-known sources of publicly available material and online people search data include:
International People Search
VitalRec Inquiry: For free of charge birth, death, marriage, and divorce records, every US County or town in each state is covered, as well as international records from major European countries, Canada, Australia, and New Zealand.
The National Sex Offender Public Website: This is a public website that lists all registered sex offenders for all the 50 states, including US territories and Indian reservations.
Copyright Records: If your target person is involved in creative arts such as being a writer, musician, or has any part in the making of copyrighted media, the US copyright office has online searchable records.
Patent Records: When the person you want to find is an inventor or scientist, they could be listed in the publicly accessible databases of the US Patent and Trademark Office.
Federal Bureau of Prisons: If like other millions of people, your person of interest is or has been at one time incarcerated, the federal bureau of prison's searchable website will have them listed.
People Find Friends and Relatives
People often want to search for their old friends or distant relatives but a problem arises as how to find ppl with little about the person. Do not lose hope. Remember: The world is small.
In this article about people search, we'll tell you how to find a person's name, surname, photo or phone number. In addition to this data you may need the person's age, date of birth, city of residence or school(s) attended. Many search options work like a filter - the more input, the fewer and more accurate results.
Usually you want to implement your plan for free. Modern technologies (in particular the Internet) allow you to search and find anything that has been entered in the network. If the people are registered somewhere or reported about themselves, then there is a high probability that it will be quite easy to find them in specific databases
Totally Free People Search Sites
A fully legal process of information obtaining has put at risk the privacy of anyone with something to protect, such raised politically uncomfortable constitutional issues on the privacy of an individual. This includes:
Spy Cameras and Microphones, TVs, Google Minis
Spy cameras are also known as secret hidden cameras, security cameras, or video surveillance cameras, and they record all the events in a particular place, with or without the consent of those being recorded. With the ability to keep your property or belongings secure, spy cameras also collect images of an individual's action for later reference by employers or law enforcement. Images and voice can be obtained using recoding with hidden cameras, or spying using microphones on Google mini or TVs.
Wiretapping
Wiretapping or telephone tapping is the monitoring of conversation by hacking onto your phone or computer by third parties. This covert technique collects intelligence on a person and can be used legally by the government in a process called lawful interception. A passive or active wiretap on your computer will monitor traffic, record, and alter online communications.
Computer/Browser Hijacking
This is a form of planting unwanted software on your internet browser without permission or awareness. The symptoms are lots of uninvited adverts popping up. Browser hijackers force hits onto particular advertisers' websites and may modify your browser's homepage, search engine or error page. Spyware, which is software that collects data on you, can also be installed by browser hijackers, such as key loggers for email, banking authentication details.
Search For People On Social Networks
The prevalence of social networks is now just off the scale. It is not only a convenient platform to search for people, finding friends and chatting but also a file sharing service - music, movies, images, as well as news, so lots of people use it.
Modern technologies allow you to go online not only from your computer but also from your phone and other gadgets. Therefore, even without being sure whether the lost person has an account, we can assume that if he does not actively use it, then, at least, he has created a profile. So, that individual will have several contacts that can enable finding him. When choosing a platform, you should focus on interests and age.
For example, a woman over 45-50 years old is more likely to use Odnoklassniki. But the most popular Russian social network at the moment is Vkontakte. However, in the case when you are not sure if the person still lives in Russia, you should look for him in international social networks - Facebook or Twitter, Instagram.
How To Search For A Person By Last Name And First Name
Complete the sign-up process, so you will have access to available data on the social network. Usually, it is not difficult, and it takes a few minutes. To create an account, you only need an email address or phone number.
Almost all social networks have a section called people or friends, where you can enter the last name and first name of the person you are looking for in the search column.
Please note that people do not always indicate their full name, as in the passport. Sometimes you can meet Sasha instead of Alexander, as well as various diminutive forms, for example, Sanya.
You can also enter additional parameters. It can be a year of birth, approximate age, city of residence, high school, place of work. Enter all the data known to you.
But remember that not all registered users show all the tidings about themselves. They may indicate only the name and date of birth. Thus, sometimes, you should not specify everything in the search but start from primary data.
Scroll through the found result. You can visit those profiles or check the photos.
There are several more options. For example, first, find a person who can be friends or keep in touch with the person you are looking for. It can help you to find your lost friend. And the last opportunity is to create a post in the group where people can help in the search. For example, contact the community that brings together people who attended the same school. But remember that finding a person by name in a social network is possible only if that individual is registered there and uses his real name, not a nickname.
Pre Internet People Searching
Way before the days of the Internet and cell phones people were searching for other people.
Employers wanted to know a person's employment history in determining hirability.
Law enforcement and private investigators (among others) investigated criminal history.
Partners in relationships were curious about truthfulness and trustworthiness, inquiring about marriages, divorces, age, aliases, arrests, relatives, children and interests.
Lenders required records of property, bankruptcies, liens, judgments, lawsuits - in determining loan risk.
Buyers of services and merchandise wanted to know if sellers were legit - reviews, experiences, recommendations...
Social networks spawned a craze in curiosity that has people imprisoned in their cell phones. Who likes my video? my blog? Me!?
Data junkies 'just want to know'. Using Google Dataset Search they can learn of the number of super rich people in greater China as of 2017, by city; Percentage of people saving money in South Korea 2017, by type - endless stats
Perhaps the most important search is that of ones self to see what's out there, to correct misinformation but mainly to see what other's can learn about 'me'.
People-search services have improved considerably over the years making searching for and finding accurate details about people easier and faster, fueling the addiction to 'people search'.
Check a Person's Background Online
The closest we're going to get a 'free background checks' are the 2 websites mentioned above. There are no known 'free background check services' but many local repositories (municipalities, counties, organizations) have records of arrests, incarcerations, sex-offender and prowler lists and convictions while other sources require authorization to access like credit reports, financial histories, medical, motor vehicle, license, police and military records.
What is a Background Check?
As the name suggests, a background check is an investigation of a person's history and could include looking into past employment, crimes, licenses, residences, credit, education, medical and military histories.
An OIG investigation lists people who have been convicted of health-care-related offenses who are prohibited from working in federally-funded health-care programs.
An E-Verify background check can be used by employers to confirm the identity and employment eligibility of new hires. The check compares I-9 entries (Employment Eligibility Verification) to the employee's attestation of eligibility to work. This check is voluntary in most situations.
The Automated Fingerprint Identification System (AFIS) contains only 35 million set of fingerprints (in a country with 330 million residents). This check is required of public schools, law enforcement agencies, airports, fire departments and hospitals. (The FBI makes copies of the Identity History Summary available For $18 and a fingerprint card.)
International background checks range up to $60 and can provide reports of criminal records, employment verification and education.
The accuracy of credit checks is somewhat questionable given the probability of inaccuracies, stolen identities and abuse by collection efforts. Presumably the checks reflect how people manage their personal finances, managing credit and paying bills on time. The history may include payment history, bankruptcies, judgments, credit inquiries, tax liens and collections as well as good data. Agencies will provide free copies of reports to those who have been denied recently.
License checks seek to verify valid licenses claimed by those who apply for work in industries requiring licensing including accounting, administrators, banking, brokerage, builders, contractors, electricians, finances, insurance, medical, plumbers, professors, real estate, teachers
Free Public Records Search
The Public Record Research System (PRRS, brbpublications.com) provides links to searching for free at these online destinations: Federal Courts' Opinions and Decisions, Federal Sanctions Sites and Agencies, State Appellate and Supreme Court, State Occupational Licensing Boards, state, county, and city databases.
These are many (but not all) of the resource available: Attorney General, Birth Records, Business Entity, Campaign Finance, Cemetery Inscription, Court of Criminal Appeals, Criminal, Deaths, Divorces, Crash/Driving/Motor Carrier, Elections, Embassies, GED-HiSET, Incarceration, Inmates Dragnet, Insurance Agency Fraud Enforcement Dispositions, Legislation and Statutes, Lobbyists, Marriages, Military, Property Data, Sales Tax Registration, Sex Offender Registry, State Archives, State Judicial System, Taxable Entity Verification, UCC (Unified Commercial Code-1) filings of liens, Unclaimed Funds/Property, Vehicle, Watercraft and Workers Compensation.
Inventive People Search
Society in general has become so dependent/reliant upon (er, addicted to) the 'world wide web' that perhaps thinking outside the box is never a quest. Old pre-Internet codgers used show leather, pen and paper and many hours of their time to slog on down to the local or university library scanning through index cards (what?) in search of documents that 'might' contain the information sought. They trekked often to the county court house perusing marriage license applications, birth certificates, business (dba, doing business as) registrations, and divorce decrees. Visits to the tax assessor's office could put property ownership and details about the owner and property in discovery. State records held drivers, hunting and fishing licenses, and every other activity regulated by government oversight. So far removed from today's camera on every corner, facial recognition, ID implants and big-brother's probe in every facet of your life.
Most governmental and private entities have hustled to commit their written archives to e form so the recorded data could be more easily searched and rendered. Some institutions though may never go down that road, like the post office, pension scrolls, religious organizations, CIA operatives and local ho-houses. Some things by nature must remain clandestine.
Local Searches for People
If the person sought is from a smaller town or somewhat rural area, there are some here-to-fore potential sources of tracking that wouldn't come to the millennial mind:
Local churches and congregations: If there's one group of people who knows everyone and their business, it's a group of parishioners, from the day of birth to the final day, if not beyond, so they say. The pastor or priest is a walking store of all things general plus things locked away in the pulpit's Pandora Box.
The local pub: Second only to the gossipy people in the pew next to you. The primary difference is that the local watering hole is nearly men exclusively, so there's secrets buried here that can only be unearthed by multiple offers of 'whiskey for my friends'. Nothing brings out rumors like a good bourbon.
You know that 65-year-old nearly-retired girl who worked a desk in the high school office for the past 47 years? Shooting a good dose of scopolamine (truth serum) into her veins could set off a 24-hour dump of dirt on every kid who walked her hallways - moms, dads and teachers too. Too extreme? Ok, two glasses of wine then...
Looking for someone who might have been in the bottom third of the graduating class? Tap into the local police office archives, as much as is possible without a warrant. If someone came through, they left a heavy paper trail. Just ask any arresting officer who had to file it (by hand).
The post office guy or gal who revivals the high school secretary in tenure will know most of what she knows plus or minus more. The school clerk doesn't see the packages this government employee does. Before automatic sorting equipment post-office employees eye balled every piece of mail, and don't you know those packages that vibrated or donned a return address like 'Barry's Barely Legal' got a shake if not a steam open and reseal?
The list is endless and ends with the last people who might have known or known of the people we're looking for. Any and every business from hardware to groceries to lumber. The auto repair guy. In a small town, the best spend of shoe leather could be door to door and take no more than the time between an early breakfast and a late lunch.
Ah, and 'finally' - the funeral directors - perhaps the only people who could confirm that in fact, your name was tattooed on your past lover's posterior. (the old-fashioned BFF tag)
People Search Engines - Find People by Address
Webmasters caught on early that by offering free services (like people search) would bring lots of traffic to their website where they could then generate revenue, not by selling secrets about people, but by selling ad space and products related (and not related) to people search. If you've ever wondered why any business would go to the expense of building and maintaining a database, take a look at such a site on your next visit and observe all of the things 'for sale' - particularly in the 'first fold' (the first viewable screen without scrolling down).
Searching for a person using his or her physical address is known as a 'reverse search' - reverse meaning opposite of the usual form of searching which is to use a person's name to ferret out an address. Prior to the Internet the only way to conduct such a serach was to visit the local county court house and look up the address. Even then it was the owner of the property whose name was listed - not necessarily the person living at the address.
Search for People by Address Online
Today computerization has made the keeping of huge databases possible and the Internet has made it possible to share and access those records. 'People search' was recognized immediately as a popular Internet search phrase so many jumped on the people-search bandwagon, rushing to develop websites based upon the search of people. Today all phone companies publish the white pages and other websites unrelated to the phone business also build and maintain databases of people, including email and mailing addresses.
Search People Lookup Websites
Look up information about people in databases where data about people has been recorded. With some exceptions stores of people info are (searchable) public records.
It starts at the very beginning with a birth certificate recorded in the county or province of birth and ends with a death certificate on record in the jurisdiction where the inevitable event took place. That very first hospital record holds details from blood type to any known diseases or malformities, as well as sex, length, weight, race, et. al. Well before high school graduation, as will be borne out here, every detail about 'people' is known and forever available to those with authority to access it.
The birth certificate of course holds the full name of the newborn, full names of the mother and father (if known ;), the place of birth (city, state, hospital name) and often times finger and/or toe prints (in case finger
For many people the next document about people in the baptismal parchment, naming the religious institution, mother, father and infant names as well as the date of the ritual. Tangentially church logs contain data on parishioners.
Often overlooked are census directories which record family members residing in a location at the time census is taken.
Next up is enrollment in grade school so at a very early age there's already data about people present in multiple archives. During childhood the amount of knowledge may be limited to full name, address, date of birth, names of parents and siblings.
Don't forget the long arm of Uncle Sam and his requirement to have a social security number, which second only to people's names becomes their second identifier, more easily understood and searched that 'Gawanaapolis'. As we'll learn as we go, 'government' wants to know every detail about people, about to recover their whereabouts and activities at any given moment.
The amount of personal data people have voluntarily put out there about themselves may come back to haunt them in the future. In this decade we've learned that tremendous stores of things about people are on file: every email sent, every bit disclosed on social platforms, every group membership - plus much that which was not volunteered like photos taken from a variety of cameras posted at every corner of daily life from ATM machines to traffic cams.
Following high school for most people is college, trade school, a family business, marriage or the armed forces, all of which leave a searchable paper or e-form trail. For people who didn't do so well in school or hung out with the wrong people, there may be records of arrest, imprisonment or deportation.
People's college curriculum vitaes are a wealth of personal details, contact info, education, qualifications, institutions, dates of attendance, skills (computer, language, etc), study overseas, fieldwork, dissertations, research and teaching experience, presentations, lectures, exhibitions, grants, scholarships, fellowships, assistantships, awards, honors, certifications and memberships.
International People Search Websites
When it comes to search services there are a lot out there. From Facebook to MySpace there are many ways to consume content. The search tools are all so diverse and they need their own descriptions to be understood. For some search engines the news will pop up on a feed and you can search specific topics. For others you just get a blank box and then you must explore the topic. Below included is an in-depth description of all the peoplesearch services that are major players in today's digital highway.
Facebook has a unique profile as you must create your own identity to sign up. Facebook has stricter standards than ever now and you must actually sign up with your legal name and details to be considered. Once you are signed up you can look up names. However there is not the same option of using in-depth details like schools to find people. It's unfortunate that this changed with Facebook as it was convenient. However Mark Zuckerberg has been to court many times for data breaches. He has had to improve Facebook so that people that do not want to be discovered can still be relatively anonymous on Facebook. All in all the Facebook feed is geared to you discovering news from platforms you like. You can like the page and the brand will show up in your feed. It's an interesting way for you to get involved with the type of content that you prefer. Other than this Facebook can let you join groups that you can interact with privately on the public sphere. They have privacy options so that you can navigate the digital space undetected if you like. Those who want Facebook though still have to risk the chance that their data could be mined illegally. It has happened before and it will likely happen again on some form of social media. Those who don't make an account can't really access much of anything that Facebook has to offer.
IMDB (Internet Movie Database) is a gold mine for encountering all to do with film. It is one of the places that is recommended to go to as the gold standard for film fact. You can always discover more by clicking film titles and names that you want to know more about. I've found that I can go down a rabbit hole discovering new actors and actresses as well as what movies are coming out. It's very interesting to see a history of the films that certain artists choose to work on. There is also a list of all the professionals that team up to make a film happen. I like understanding the plot of a film and what goes into making it. IMDB is mainly about the facts but you can also find fan favorites and editors' picks on the main site. There is a search engine right at the top if you know exactly what you are looking for.
What Happens to Whistleblowers?
Whistleblowers are people who expose secrets or activities that are unethical, illegal, or not in the correct standing with the unaware public. Whistleblowers like Julian Assange or Edward Snowden have exposed matters of state that have violated national or public security, interest, law, or regulations. Though NGOs advocate for the rights and legal protection of whistleblowers, they live under the risk of retaliatory reprisals from powerful politicians, corporate CEOs or spy agencies they identify.
Zaba People Search
Is Zaba free? Notice the meta description for the page reads, "Find people, addresses & phone numbers for free using ZabaSearch's database of public information. Use our reverse phone lookup to find out who's calling you."
Search your own name. You might see a list of names on the first page of search results but clicking on a link to go to page 2 displayed this: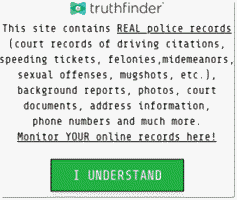 Clicking on the 'disclaimer' delves into truthfinder.com so no free information going that route.
Under each name listing there's a button named 'View full profile'. Going there leads to Intellius, another paid service, so no useful detailed information down that rabbit hole.
Following links on the right (Phone Lookup, Background Check, Public Records, Property Record,s Maps & Driving Directions) also lead to Intelius
.
This footnote ("ZabaSearch.com is a leading provider of public data about people and their connections to others.") seems to contradict the fact that the entire site is nothing more than click bait for paid services, including nine display ads jamming up the page.
Searching for consignment software? provides software for consignment-resale-buy-outright-thrift shops for one low price and fair policies like no annual service fees and free software updates. They've been in business sine 2002 and have a solid reputation for products and services.
People Search Global© https://www.people-search-global.com 2003-2020 | Privacy | Facebook